Barracks

The "Old Barracks" of VMI

Location

Lexington, Virginia

Built

1848

Architect

Alexander Jackson Davis

Expanded

1948, 2006

Added to NHRP

October 15, 1966
The
Barracks
of Virginia Military Institute are the homes of all the
VMI
cadets in Lexington, Virginia. They were designed in 1848 by architect Alexander Jackson Davis.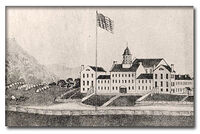 VMI, founded on the Virginia State Arsenal, opened to cadets on November 11 of 1839. The arsenal building had very poor living conditions, and then-VMI superintendent Francis H. Smith stated "the whole establishment presented the appearance of a prison". Cadets would deal with life their for 9 more years.
In 1848, Francis Smith approved the proposal to form a new barracks for cadets. It would be designed by famous New York architect Alexander Jackson Davis. It opened doors on September 24, 1851, at a cost of about $30,000. One of the teachers included Major Thomas Jackson that year. Through the decade, the "Old Barracks" saw more expansion on the east and west wings. In 1860, the East wing continued expansion, and it reached to the cliff over Woods Creek, but expansion stopped as the Civil War broke out.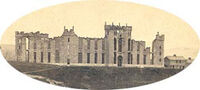 Three years later, VMI was practically destroyed. Eighteen thousan Union troops entered Lexington on June 11, 1864. The Corps of Cadets were recently coming back from New Market, and retreated to the Blue Ridge Mountains that night. The following day, Yankee General David Hunter lead the burning of the campus. Nearly all the school was destroyed, and the Union stole a George Washington statue to West Virginia to honor their victory. The troops left for Lynchburg on June 14. Becuase of this, all cadets were furloughed, and the next December, classes were back in session at the Alms House in Richmond. VMI would re-open in October of 1865. Much later in 1948 and '49, construction of the "New Barracks" started, which would be directly northwest of the west wing of "Old Barracks". Cadet occupation started in September of 1949.
The most recent addition to Barracks was the "Third Barracks", which construction took place from 2006 to 2009. It took the place of Lejeuene Hall, and includes a bookstore and Visitor's Center. It first opened to cadets in the Fall of 2009.
National Register of Historic Places
Edit
On October 15, 1996, the VMI Barracks was added to the National Register of Historic Places. It was also designated as a National Historic Landmark on December 21, 1965.
External Links
Edit